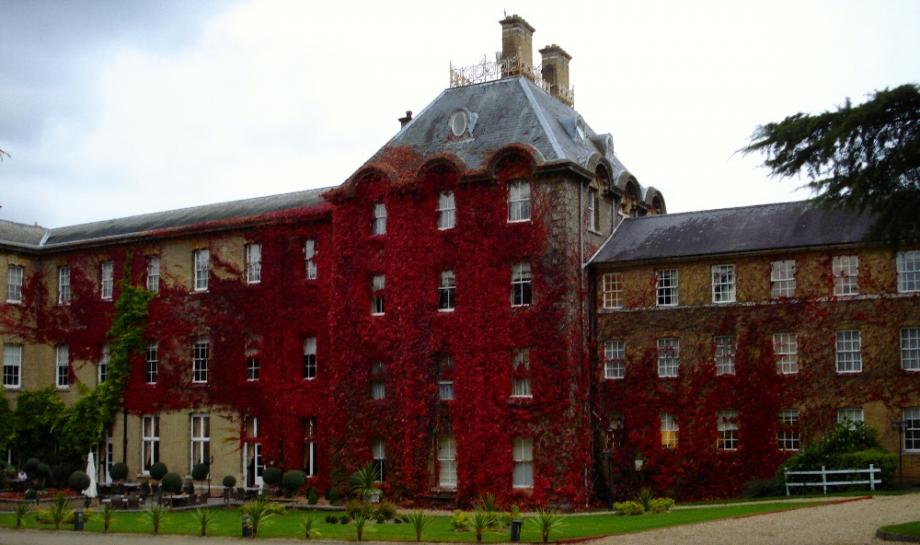 ---
The Beaumont Estate Hotel, Old Windsor, the venue for the 2015 BVCS Conference which was attended by 30 vets over the 10th and 11th October, as well as over 40 owners who had their own meeting on the Sunday.


The venue was absolutely breath taking, only a few minutes from the Thames at Runnymede but with an intriguing history of its own. The Beaumont Estate dates from 1300 but it was 1854 when it first housed Jesuit novices and later became a boys' boarding school known as the 'Catholic Eton'. Most of the amazing features date from that period: the first heated indoor swimming pool to be built in Britain (now the centre of a well equipped leisure centre), the beautifully restored Chapel which was the inspiration for the one featured in Brideshead Revisited, the porticoed, three storey White House with a sparkling chandelier suspended over the majestic staircase, the moving memorial to the old boys who lost their lives in two world wars and the Captain's Pond – if the ice was thick enough to allow the school captain to skate, then all were given a half day holiday!
Today it is a very comfortable hotel with parking for over 400 cars, 70+ conference areas and a 400 seater restaurant and we were looked after very well, although hiking boots and a compass would have been useful to find our way around the huge complex.
Luckily everyone managed to find their way to our conference suite and with grateful thanks to main sponsor British Camelids Ltd as well as to Woodley Equipment Company Ltd, GWF Nutrition and Armitage Livestock Insurance Agency Ltd, we were able to put together a varied and interesting programme for both vets and owners.


The shared speakers included Daniela Bedenice from Tufts University in Massachusetts; Claire Whitehead of Camelid Veterinary Services UK; Karin Mueller from Camelidworkshop; Alex McSloy from The Royal Veterinary College; David Harwood who spent the last 30 years as a veterinary investigation officer and gross pathologist for AHVLA (now APHA); Helen Scott and Elliott Simpson who were sponsored by BCL to attend the Oregon International Camelid Health Conference earlier this year and Andy Adler from Sure Farm.
---